Inauguration Sale! 15% off original campaign memorabilia until January 31, 2021. Use Discount Code BUTTON at checkout.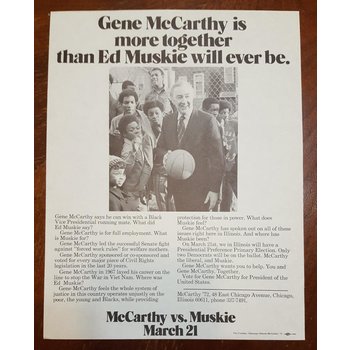 McCarthy is More Together..Flyer
Original 1972 Gene McCarthy for President campaign flyer distributed in Illinois prior to the Democratic Party presidential primary election on March 21, 1972.
McCarthy Ribbon
Original 1968 campaign button. Eugene McCarthy was an American poet from Minnesota who served in House of Representatives and the U.S. Senate. McCarthy sought the Democratic nomination for president in 1968 on an anti-Vietnam War platform.
The Store at LBJ
Address
The Store at LBJ
2313 Red River Street
78705 Austin