PLEASE NOTE: OUR ONLINE STORE IS CLOSED UNTIL FURTHER NOTICE DUE TO COVID-19 CLOSURE. Please visit LBJLibrary.org or our social media channels for future updates.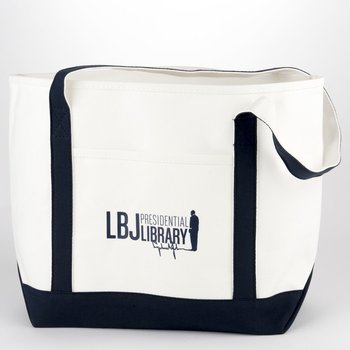 LBJ LIBRARY CANVAS TOTE BAG
• Classic-style boat bag made from 18-oz., 100% natural, cotton canvas with LBJ Library logo and navy blue accent color.
• Large main compartment with front tuck pocket.
• 24" handles for easy over-the-shoulder carrying.
AUSTIN VINTAGE TOTE BAG
LBJ and Ladybird believed in protecting the planet. Now you can reduce trash with a reusable bag that displays images that represent classic Austin and the sturdy construction makes it perfect for everything from groceries to picnics.
LBJ Museum Store
Address
The Store at LBJ
2313 Red River Street
78705 Austin